At Willowbrook Mead we believe that the internet provides us with a rich and diverse resource, but it must be treated with care and responsibility.  We understand that technology play a large part in our pupils live and we aim to prepare pupils for their use of technology now and in their future lives.
We are committed to supporting parents, carers and pupil with online safety.  Through our curriculum pupils learn how to access the internet safely and appropriately.
There are a number of ways that you can support your child online. We have included some information below:
Speak Out Stay Safe
This year, Willowbrook took part in the NSPCC's school programme 'Speak Out, Stay Safe'.  The programme helps children understand:
abuse in all its forms and how to recognise signs of abuse
that abuse is never a child's fault and that they have the right to be safe
where to get help and the sources of help available to them, including our Childline service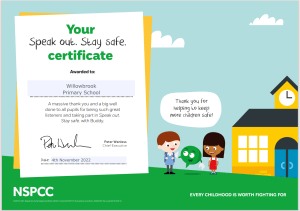 The NSPCC also have some great resources available for online safety. They can all be accessed here: Keeping children safe online | NSPCC
Parent guides to apps and websites
The following apps and sites are commonly used by children and young people. Click on the picture to see a parent safety guide for each one.
Online Gaming
Online games are important to understand because they offer a huge amount of fun, enjoyment, teamwork, collaboration and imaginative adventure for children. Played healthily they contribute an essential part of children's development and socialisation.
However, it's important for parents to understand online gaming so they can encourage safe and healthy habits in children and technology from a young age.
Here are some sites for useful tips about keeping children safe online:
Online Gaming: The Basics | A Parents' Guide – Internet Matters
How to Ensure Your Children Stay Safe While Playing Online Games | NSPCC
Reporting
If you need to report anything that you have seen online there are some different options.
for emergencies call the police on 999
Report to CEOP by filling in an online form here
Ring NSPCC on 0808 800 5000
Other useful websites and documents
Parents and carers | CEOP Education (thinkuknow.co.uk)